For the most part of my blogging life, I have always loved giveaways. The lure of winning something by random, by pure chance or through the luck of the draw is fun and appealing to me. In fact, I repeat and stress, I won this wonderful domain of mine by pure luck through
Calvin
's blog. For that, I will be forever grateful and I will forever repeat his name in my blogs. I still remember it, I started blogging in May and he gave my prize on October 1. Just a few months when I started blogging and I couldn't believe it.
So my topic for today is Giveaways/Contests.
I refer to them loosely as both, giveaways or contests to me are the same. Some you have to do more than just post a link, others just by submitting your name and email. Whatever they are, the pure and plainest concept is this, with a little effort, you get something for free, which, in these times, means a lot.
I love free full version software specially if I can obtain it legally. I mean, it's free licensed software and it's not opensource.
As of the moment, there's only one site I know that gives these away.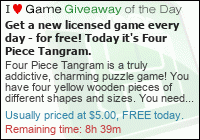 Some of the wonderful software/programs running and installed in my pc is from this marvelous site.
My favorites are mostly from Wondershare. Amazing photo collage collection and a make my own slide show program.
They've given away cd/dvd rippers , music converters, pdf to word and so much more.
Not only do they give free licensed software they also give free licensed games everyday!
More on other kinds of giveaways in the next post.